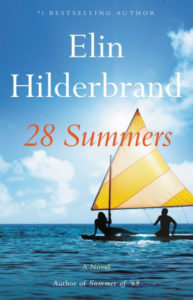 I'd never read anything by Elin Hilderbrand before this month. I've seen her books all over the place, with gauzy, breezy covers suggesting beachy summer reads about sisters and lost loves, and I never really had any interest. (Clearly I was needlessly dismissive.) This all changed when I read the plot of 28 Summers – two people have a "Same Time, Next Year" relationship that stretches over 28 summers on Nantucket – and decided I had to read it (and recruited three of my best friends to read it with me). 28 Summers ended up being one of my favorite reads of the year.
Why I picked it up: Couldn't resist the description.
Mallory Blessing is in her early 20s, living an unfulfilling life in Manhattan, when her aunt dies and leaves her a slightly rundown house in Nantucket. She quits her job and moves to the island with no plans other than to slowly rehab the house and build a life for herself there. A few months later, her brother Cooper arrives for a bachelor weekend with a few friends in tow, one of them a college roommate named Jake with whom Mallory had always felt a connection, despite never having met him in person. When she meets him, the connection is there, but Jake is already in a relationship with a longtime girlfriend.
And so Jake and Mallory embark on once- a-year relationship, seeing each other for three nights every Labor Day weekend, no matter what else is going on in their lives. (28 Summers is based on the classic movie Same Time, Next Year.) The years go by, bringing life changes for both of them. Their relationship deepens despite the complications outside them, and keeping it a secret becomes more and more challenging.
Each chapter in 28 Summers represents a different year. I love how Hilderbrand opens the chapters with a list of the current events, trends, pop culture moments and songs from that year, giving some historical and political context to Jake and Mallory's lives. I also appreciated that not every chapter focused on Labor Day weekend. Some were about other characters and other times of the year, as events transpired that affected Jake and Mallory in different ways. I loved the little details, the fact that no one was a saint or a villain, and the way the relationship lived in the characters' minds so vibrantly. Basically, I loved this book!
28 Summers is going to be a top 5 book for me this year. A very unexpected surprise.
28 Summers was book #57 of 2020.