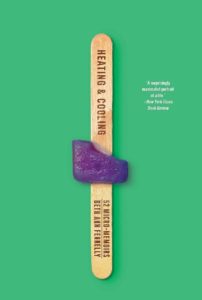 Beth Ann Fennelly's moving Heating and Cooling, a collection of "52 micro memoirs", gives readers little glimpses into the author's life that, when taken collectively, yield a rich picture of her relationships with her husband and family. The chapters are short – some as short as a few sentences – but each one packs a punch. Fennelly, a poet, conveys deep emotion and meaning in just a few words, making you want to reread each mini-memoir to commit it to memory.
Why I picked it up: I can't remember where I learned about Heating and Cooling, but as soon I did I went to the library website to request it. It didn't disappoint.
Fennelly covers a lot of ground in her short book: her mother's breast cancer, her sister's surprise and premature death, raising three kids, her deep love for her husband. She also offers tantalizing glimpses of friendships lost, boyfriends kissed, fallible parents and unruly houses. So while Heating And Cooling may not be a long memoir full of detail, it's beautifully written – poignant, wry, and sometimes very funny. Highly recommended.
Heating and Cooling was book #58 of 2020.