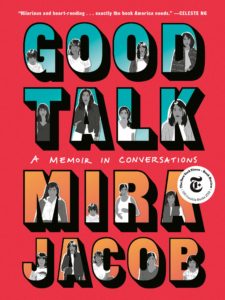 Books about race got a lot of attention this year, but one that deserves to be included as recommended reading on the topic actually came out in 2018: Mira Jacob's Good Talk: A Memoir In Conversations. Good Talk, a graphic memoir about conversations Jacob had with her young son about his identity as the son of an Indian mother and Jewish father, packs a lot in. Set in the lead-up to the 2016 presidential election, Jacob talks about race from a lot of perspectives: being one of a handful of Indian students in her white Albuquerque high school; her Indian family's prejudices; being brown in America post-9/11; dating in NYC; marrying into a Jewish family; Black Lives Matter; publishing her first novel; and much more.
Why I picked it up: Nicole and I discussed Good Talk on a recent Readerly podcast, and when I saw it in the window of my local library, I jumped at the chance to check it out.
I love how honest this book was, how Jacob takes complicated questions about race and asks them in such a compelling and simple way. How can her in-laws, who love her and her son so deeply, be comfortable voting for Trump? Why is it OK for men to tell her they want to be with her because she's exotic? Is her son in danger from police or white people because he's brown? Is it fair to ask her to change the description of her book to make it more palatable to white people? Jacob doesn't have the answers to these questions, but at least she's raising them and having the conversation.
I like the format of graphic memoirs quite a bit – they are often extremely creative in how they are presented. I liked the style of this one a lot. The main characters stay the same – drawn cartoon-like – but the backgrounds, which are real photographs, change to give context for time and place. Having the characters' images stay the same provides some nice consistency throughout the book.
Good Talk is a quick and thoughtful read, and definitely worth the time.
Good Talk was book #60 of 2020.