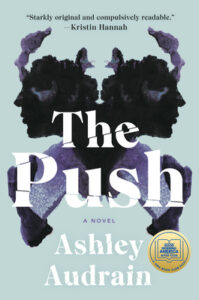 I started reading about The Push by Ashley Audrain long before it came out last month, and I was admittedly a bit apprehensive to read it. (When a book is compared to We Need To Talk About Kevin – one of the most disturbing books I've ever read – and Baby Teeth, well, you proceed carefully.) But then the glowing reviews starting pouring in, with people talking about how hard it was to put down, and I decided to take the plunge. I added The Push in to my February BOTM box, and I can now agree that this book about a desperate mother and her possibly dangerous daughter is worth the hype.
Why I picked it up: The hype, and because I heard Audrain speak on Politics & Prose panel in January about The Push (along with Liz Moore and Aimee Molloy) and was intrigued.
Blythe Connor, the product of two generations of seriously dysfunctional mothers, is determined to be a good mom herself. When she and her husband learn that they are pregnant, she prepares herself to welcome a baby with the love and affection she never felt from her own mother. But when she finds she cannot bond with her daughter Violet, a frustration that persists through Violet's toddler years, Blythe is shaken. Is it Violet, or is something wrong with Blythe that is making her deficient as a mother? Her husband Fox tells her that she is imagining Violet's coldness, that she just needs to relax around her daughter and not project her anxiety. Soon Violet's teachers are raising questions about the girls' behavior, and when Blythe witnesses two tragedies that could be more than just awful accidents, she becomes convinced that Violet is cold, calculating – and possibly evil. This belief causes deep rifts in Blythe's marriage, her self-esteem and her sanity.
The Push is an adrenaline ride of a book. Told in second-person as a letter from Blythe to Fox and interspersed with details about her mother and grandmother, it's a very difficult book to put down. While I dreaded learning about what Violet might have done, and how Blythe would handle it, I also felt an enormous about of empathy for Blythe. Mothers have a lot of expectations put on them, by their husbands, by their kids, by society, and by themselves. Blythe suffered so much in her experience as a mother – great loss and disappointment – and while she may appear unhinged at times, her behavior is quite understandable.
There is a lot to unpack in The Push – Fox's doubting of his wife and his ultimate infidelity (this is revealed in the first few pages), the abuse that led to Blythe's self-doubt, the often tedious drudgery of parenthood, nature vs nurture. I was in the zone when I was reading The Push, caring little about what was going on around me until I finished it. Audrain is a deft, agile writer who ratchets up the tension and dread organically to the point where you simply cannot put the book down. With the caveat that there are many disturbing scenes and triggers in the book, I highly recommend it.
The Push was the 8th book of 2021 and satisfies the debut novel category of the 2021 EDIWTB Reading Challenge.