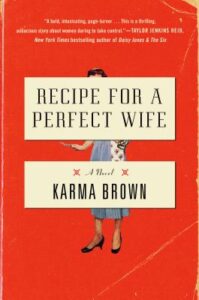 Is a book set half in the present and half in the 50s historical fiction? The 50s don't seem long enough ago to be considered "historical", right? I am going to call Recipe For A Perfect Wife by Karma Brown contemporary fiction. It's about two women who live in the same house in a Westchester suburb: Nellie, a housewife in the 50's trapped in a marriage to a difficult, volatile man, and Alice, a young married woman who has left Manhattan with her husband, not entirely willingly. Both women face issues in their marriages as well as conflicting feelings about motherhood and disappointing relationships with their own mothers. As Alice learns more about Nellie through her beloved cookbook and garden, she learns that despite the decades that separate the two women, they have a lot in common.
Why I picked it up: I've had this 2019 release on my shelf for a while. The stars aligned when I realized I had an audio review copy as well and was in the mood for something light-ish.
Recipe For A Perfect Wife was an enjoyable read. I liked the dual timeline storytelling, with Brown setting up the parallels between the two women's lives nicely. There are 50s recipes sprinkled throughout, as well as horrifying, outdated advice about being a wife pulled from old books about marriage. Nellie's storyline was particularly compelling, with her doing whatever she could to survive within the confines of her life. Alice was a more frustrating character, as she seemed bent on charting a path of deceit to her own destruction. But I liked seeing Nellie unspool through Alice's eyes. I also enjoyed the recipes and gardening tips in the book – well-timed for the pandemic.
(Men do not get treated well by Brown in Recipe For A Perfect Wife. There isn't an honest or decent one in the book. I would have liked more charitable treatment of husbands, just to make things seem a little more realistic.)
I listened to Recipe For A Perfect Wife on audio. The narrator for Nellie, Mozhan Marno, did a nice job conveying Nellie's fortitude and loneliness. I've enjoyed her narration before (Hausfrau, The Stationery Shop) and liked her chapters the most. Alice's narrator, Jorjeana Marie, was a bit cloying (like Alice). Overall it was a good audiobook and I recommend it.
Recipe For A Perfect Wife was the 17th book of 2021.