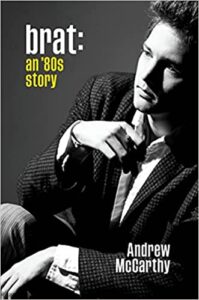 The pandemic has made us nostalgic. Whether it's the Friends reunion, an impulse to bake family recipes or TikTok sensation Whitey singing 80s ballads to middle-aged moms, it's all about a desire to conjure happier memories during a time when we aren't making new memories (or wanting to remember what we're living through). Andrew McCarthy's new memoir Brat: An 80s Story hit at just the right time, aimed at stressed-out Gen Xers eager to revisit the pivotal movies they experienced as teenagers.
Why I picked it up: Duh.
Andrew McCarthy is best known for his roles in St. Elmo's Fire, Pretty In Pink, Mannequin, Weekend At Bernie's and Less Than Zero. He was lumped in, fairly or not, with the Brat Pack, a group of young actors in the 80s who were mischaracterized as cocky and entitled. McCarthy, it turns out, was a shy outsider, ambivalent about fame and uncomfortable with the whole Brat Pack label. He did not develop close relationships with his costars, and after kicking an alcohol addiction in the early 90s, he largely disappeared from the public eye. In recent decades, he has made a name as a travel journalist, written a YA novel and directed for TV.
Those looking for scoop and scandal may be disappointed by Brat. But those interested in a well-written, introspective memoir about identity, anxiety, addiction and the process of coming to peace with one's life will be rewarded. Although he resents the Brat Pack label, he is grateful for the movies that made him famous and the acting experiences that brought him satisfaction. McCarthy is a talented writer, and his self-deprecating humor goes down easy. I even learned a bit about acting and making movies. Brat is a relatively short read but definitely worth the time.
I listened to Brat on audio so that I could spend 6+ hours hearing McCarthy in my ears. He's a good narrator, with that immediately recognizable, slightly high-pitched voice, and of course hearing an author perform his own words is always powerful. I highly recommend the audio for this reason.
Brat was the 26th book of 2021.