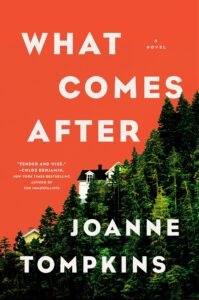 What Comes After by Joanne Tompkins is a propulsive character-driven novel that also includes a murder-suicide mystery. When this debut novel opens, we learn that two high school boys – Daniel and Jonah – are dead, and that Jonah killed Daniel in an uncharacteristic fit of violence. Daniel's father Isaac and Jonah's mother Lorrie, next door neighbors, are trying to navigate their own painful interactions and move on from the tragedy. A pregnant teenager, Evangeline, shows up at Isaac's house looking for a place to stay, but she's hiding her own secrets about the two boys and what role they played in her life.
Why I picked it up: Strong word of mouth, and it was my April BOTM pick.
Despite the violence at its core, What Comes After is a quiet, introspective novel. Tompkins, who is a mediator and judicial officer, has witnessed a lot of family trauma in her job and brings that experience to the book's exploration of loss, forgiveness, healing and belonging. Isaac is an angry, broken man trying to put his life back together after Daniel's death, while Lorrie, who has borne the brunt of depression and violence in her own home, has to carry the guilt of what her son did while also mourning his death. Tomkins' writing is reminiscent of Kent Haruf's, with the depiction of small everyday actions carrying outsize weight to convey the complexity of the relationships in the book.
There's a lot of pain and loss here: loss of children, of parents, of beloved pets, and of spouses. No one emerges unscathed from this novel. But each of them shows the potential for healing, for finding a life that acknowledges loss and sadness but provides the potential for new joy. That's what I liked most about this book – Tomkins' optimism and fundamental belief in the goodness of people. It saved What Comes After from being a relentlessly sad book.
It took me a little while to get through What Comes After – it's not a light read and could have been shortened a bit – but I am certainly glad I read it.
What Comes After was the 23rd book of 2021.