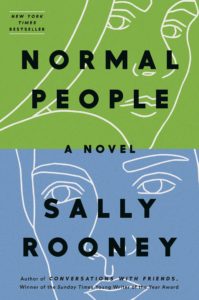 Normal People by Sally Rooney is enjoying a moment, because not quite two years after its release, it has been adapted into a series on Hulu. With everyone stuck at home in search of new entertainment options, the series has caught on, fueled by strong reviews and word of mouth. I read, and did not particularly like, Rooney's earlier book Conversations With Friends, but I found the buzz around the TV series hard to resist. And of course, I wanted to read the book before I watched the show, so Normal People was my latest quarantine book.
Why I picked it up: I wanted to watch the TV adaptation, and reviews of the book Normal People were good enough (though definitely mixed) to convince me to give it a try.
Normal People is about two people living in Ireland – Marianne and Connell – who go in and out of each other's lives from high school into graduate school. Marianne is wealthy and smart but also socially awkward and not well-liked in high school. Connell is not wealthy, but he is popular and smart. Connell's mother cleans Marianne's home, so the two often cross paths both at school, where they have classes together, and at Marianne's house, where Connell comes to pick up his mother. An undeniable physical attraction between the two starts off a relationship that's on-again, off-again over the course of many years.
In high school, Connell is afraid to go public with his feelings for Marianne, an act of weakness that forms an uneasy foundation for their future. They end up in college together, where their fortunes change: Marianne becomes popular and finds her footing, while Connell feels out of place. They find their way back to each other at different points throughout their years at Trinity, but always seem to implode eventually, due either to lack of communication or the pressure of outside forces like family dysfunction or mental illness.
I ended up really liking Normal People. Unlike Conversations With Friends, where I found the relationships implausible and not compelling, I felt totally invested in Marianne and Connell. Rooney's strength is her depiction of emotions and the angst that accompanies romantic relationships, especially those among young adults. While keeping Marianne and Connell apart sometimes made for frustrating reading, the scenarios that caused the distance were totally reasonable. I liked Rooney's writing quite a bit this time and had a really hard time putting the book down! She really nails intimacy and longing, as well as the comfort of finding someone who makes you feel safe.
So Normal People was definitely a departure for me from Rooney's last book, and I am firmly in the "read it!" camp on this one. I started the Hulu series last night and watched the first episode. So far, I like it! A good book to movie/TV adaptation can be so satisfying.
Normal People was Book #19 of 2020.