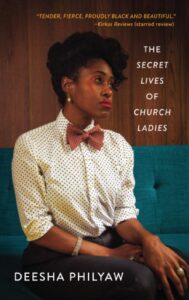 Just under the wire for the end of 2021, a book I've had on hold for ages came in to the library. And because I've wanted to read it for so long, I started it right away. It's called The Secret Lives of Church Ladies by Deesha Philyaw, and it's a collection of stories about African-American women and the tension between who they are and what society expects of them. The women in Philyaw's stories are mostly single, in their 30s or 40s, are are often in some sort of relationship that isn't what they'd expected from their lives.
Why I picked it up: I started reading about this book when it came out in September 2020 and was intrigued by the amazing reviews.
In one story, a woman has a "same time next year"-type relationship with her best friend, but she wants something more. In another, a girl whose mother is cold and withholding struggles to avoid becoming anything like her. In another, one of my favorites, a woman is afraid to get into a relationship with a man because she is uncomfortable with what she looks like. This is a great collection, rich and nuanced, with vibrant, flawed characters trying to live honest lives. With the exception of one story, I found them all to be memorable and poignant, and I savored them by listening only on audio and not allowing myself to read it in print, which I do much more quickly. I also just learned that this collection is going to be adapted by HBO Max – I can't wait!
The audio version of The Secret Lives Of Church Ladies is excellent. I could listen to narrator Janina Edwards' voice all day. She was a perfect choice for this collection!
The Secret Lives of Church Ladies was the 60th book of 2021.