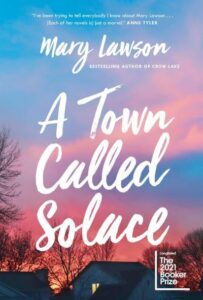 I can't remember where I heard about A Town Called Solace by Mary Lawson, but it worked its way onto my radar late last year. I suggested it for my January book club pick and it won out, so we read it this month. And I am so glad we did! It's a quiet but engrossing read about intertwined lives in a small Canadian town called Solace, and how several relationships built of circumstance and proximity ultimately proved life=changing.
Why I picked it up: I read glowing reviews of A Town Called Solace in a few places last year and added it to my library hold list.
There are three main characters in A Town Called Solace: Clara, a seven year-old girl whose older sister has run away; Elizabeth, an older woman in her 80s who lives next door to Clara; and Liam, a man in his 40s who once lived next door to Elizabeth. Clara is distraught because Elizabeth is in the hospital, leaving her cat in Clara's care, while Elizabeth, who knew Liam when he was a boy, has left her house to Liam to take possession of. When Liam appears at Elizabeth's house, Clara, already distraught about her sister's disappearance, is equally upset and distrustful. Meanwhile, Elizabeth, near death in the hospital, relives memory of a young Liam and how her deep affection for him caused problems in her marriage. Liam, who has escaped a bad marriage in Toronto and is adrift in the new town, craves his solitude in Elizabeth's house, but gradually gets used to Clara's presence and begins to feel protective of her.
Liam, Clara and Elizabeth are all hurting in their own ways. Lawson slowly teases out Elizabeth and Liam's pasts so that you understand what made them so damaged and lonely, Clara, meanwhile, is too young to really understand what's going on around her, but she too feels bereft and confused. I loved the way Lawson built suspense while poking gentle fun of the people in the small town. While there is a lot of sadness, there is also hope by the end of the book that the characters find some sort of solace in each other.
This is not a flashy book. The plot and writing style are both simple, and it's not action-packed. But it is moving and memorable. I am so glad I read it! I felt very invested in the story and was sad when it ended.
A Town Called Solace was the 5th book of 2022. It satisfies the Book Set Outside The U.S. category of the 2022 EDWITB Reading Challenge.