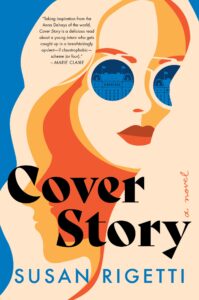 Cover Story by Susan Rigetti is one of those books that is best to go into without knowing too much. It's about the friendship between two women – an NYU student named Lora Ricci and a contributing editor at ELLE named Cat Wolff – and the ways in which their lives become interdependent. Cat lives at the Plaza and says she is a wealthy Russian heiress, but who is she really? And what does she want from Lora? As Cover Story progresses, the two become more entwined… and the deception between them deepens.
Why I picked it up: Because Susie of Novel Visits read it and posted on Insta that she was desperate to talk to someone about it afterwards, which meant it must be a good book!
So yes, I know you're thinking that "fake Russian heiress" sounds like My Friend Anna, reviewed here, and it does. For a while, I felt like I was reading the same book. But Cover Story takes a different direction at some point, delivering a fresh read that will leave your head spinning. I want to reread it now just to make sure I have it all figured out. I am not going to say much more in order to avoid spoilers, but overall Cover Story was a clever, quick read that hooked me quickly. It's current, fun and addictive. And after you've read it, hit me up so we can discuss it.
Cover Story was the 23rd book of 2022 and satisfies the debut novel category of the 2022 EDWITB Reading Challenge.