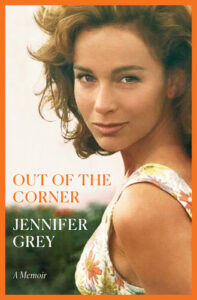 There is no way I wasn't going to read Jennifer Grey's new memoir, Out Of The Corner. I'm an 80s girl, I loved Dirty Dancing, and I love memoirs. So, duh. But I wasn't expecting it to be as interesting and captivating as it turned out to be.
Why I picked it up: See above.
Jennifer Grey is best known for playing Frances "Baby" Houseman in Dirty Dancing, for dating Matthew Broderick, and for the nose job that rendered her unrecognizable and ground her career to a halt. She does cover all of that in Out Of The Corner, but she covers a lot of other topics too. The daughter of famous Broadway performer Joel Grey, Jennifer spent her childhood bouncing back and forth between LA and New York City. She knew from an early age that she wanted to be an actress, and growing up in the industry gave her a lot of exposure to celebrities and the performing lifestyle. Yet, even though she was partying at an early age, getting involved with inappropriate men and left to roam the streets of New York with little supervision, she was also rather naive and somewhat clueless about how to launch a career and navigate ambition and fame. Her relationships with men, in particular, were often disappointing, leaving her feeling gutted and insecure.
Grey was already in her late 20s when she took the role that would define her, and while Dirty Dancing propelled her to new levels of fame, she had already been in several movies and had dated Matthew Broderick, whom she met on the Ferris Bueller set, for a few years. Their relationship, like many others in her life, was marked by dramatic highs and lows and dysfunctional interactions. A deadly car accident in Ireland that took place right before Dirty Dancing premiered was a life-altering experience for Grey, one that sent her years later into the therapy that helped her finally understand herself and the truths that she had suppressed for decades.
Also: the nose job. Grey explains (both in a prologue and in a later chapter) why she did it and how it irrevocably changed her life. You might be surprised when you read this section, so I am not going to give away anything.
I found Out Of The Corner to be a wholly engrossing and satisfying read. Grey is a good writer and she doesn't hold anything back in this memoir. I was always happy to return to the book and I would have welcomed even more, especially about the more recent years, a period that she rushed through a little bit. Out Of The Corner has everything I like in a celebrity memoir: humor, honesty, surprises and some dirt.
I listened to Out Of The Corner on audio and I don't think there's any other way to do it! Grey is an excellent narrator and the words have even more impact delivered in her voice. I highly recommend the audio.
Out Of The Corner was the 22nd book of 2022 and satisfies the memoir category of the 2022 EDIWTB Reading Challenge.