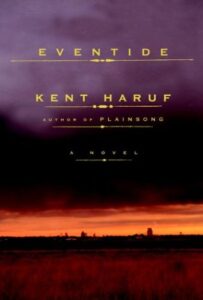 After saying I was going to for several years, I finally picked up Eventide, the second book in the Kent Haruf trilogy that started with Plainsong (which I loved and reviewed here). Eventide picks up after Plainsong ends, with little character overlap with its predecessor other than the two older McFaron brothers and Victoria, the pregnant teenager who they took in. Like Plainsong, Haruf's novel tracks the lives of ordinary people in a small town called Holt in Colorado, most of whom are lonely or experiencing some pain or abuse. Haruf explores how people connect, how small gestures and kindnesses can lead to the restoration and soothing of past pain. While I didn't love Eventide quite as much as Plainsong, I still liked it a lot.
Why I picked it up: Eventide has been on my TBR for years, since I read Plainsong.
Eventide tracks several Holt characters: the McFaron brothers (after Victoria moves out and goes to college); a couple struggling to care for their two young children in their trailer home; a single mother whose husband is off in Alaska; a young boy living with his aging grandfather; and a social worker who interfaces with all of them. Eventide covers one winter, and the ups and downs of life that befall this crew, including deaths, breakups, illness, abuse and, thankfully, the promise of new beginnings. Haruf's writing is clear, plain, unadorned. The book is not dramatic or terribly suspenseful. Life happens, and Haruf captures the little things – the gestures, the awkward small talk, the myriad small heartbreaks that happen throughout average, unremarkable days. That's the beauty of these books – you feel like you're eavesdropping on these small-town lives. You can see it all playing out right in front of you, and you get invested in the characters and hope that things will turn out OK for them. Haruf's books are all about humanity, empathy and, ultimately, hope.
The audiobook narrator for Eventide, George Hearn, was *perfect* for this book. His voice has an old-fashioned, timeless feel to it, and I just love listening to him. I thought he was the same narrator from Plainsong, but it turns out that was another excellent performer. I highly recommend the audio (especially because the print doesn't have quotation marks!).
Eventide was the 21st book of 2022 and satisfies the Book From An Author I Love category of the 2022 EDIWTB Reading Challenge.