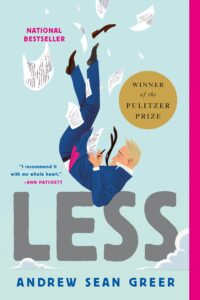 One of the most difficult categories to satisfy in this year's EDIWTB Reading Challenge is Book That Won An Award. I don't always love award winners, which I often find to be"good-for-you" books that aren't so pleasurable to read. I decided to pick up Less by Andrew Sean Greer, which won the 2018 Pulitzer Prize for Fiction. It's a comic novel, so I hoped it might go down easily, and I'd heard mostly good things about it. It's about Arthur Less, an author turning 50 who accepts a range of invitations to events abroad so that he can avoid attending the wedding of his ex-boyfriend Freddy. As Less travels around the world, he deals with the memories of his lost youth, his professional failures and the loves who have gotten away. He also finds himself in a series of ridiculous situations as he bounces among New York, Italy, Morocco, India and Japan.
Why I picked it up: I needed an award winner for my 2022 EDIWTB Reading Challenge.
Less was not a successful read for me. There are some flashes of brilliance, and Greer is a beautiful writer. But I was bored and confused for a lot of the time I spent reading the book. I didn't always follow the story – that may have been due to listening on audio – and in the end. I didn't really care what happened. Less was constantly in need of affirmation – physical, professional, emotional – which got old. He didn't care about anyone else and just felt sorry for himself most of the time. Boring. I didn't connect to him at all. The best parts were the travel descriptions, which were well done.
The audiobook was probably not the best choice for Less. The narration was fine, but trying to follow the story was even more challenging on audio than in print.
Less appears to be a very polarizing book – some people love it, some people hate it. Is that the nature of award winners??
Less was the 56th book of 2022 and satisfies the Book That Won An Award category of the 2022 EDIWTB Reading Challenge.