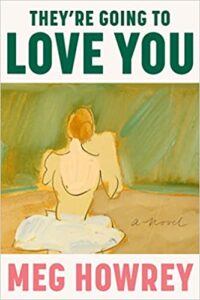 Several years ago, one of my absolute favorite authors, J. Ryan Stradal, recommended a book by Meg Howrey to me. I haven't read The Wanderers yet, but when I started seeing Howrey's new book around. They're Going To Love You, I knew I wanted to read it. It's a family drama set in the world of ballet, and it's split between the 80s and the present-day. (Of course, this book would have already had me at "complicated family drama", "world of ballet" and "80s"… but Stradal's rec didn't hurt.) Carlisle Martin, born to Isabel, a ballet dancer, and Robert, the director of a ballet company, lives a life split between her parents after Robert leaves Isabel for a man named James. Carlisle's childhood is confusing and inconsistent, as she spends only a few weeks a year with her father and James in their legendary West Village apartment, but those weeks shape her into the dancer and artist she eventually becomes.
Why I picked it up: This was my final book for the 2022 EDIWTB Reading Challenge! I sent my son to pick a book for me from my many piles of unread books, and he came back with They're Going To Love You. I didn't complain!
There are a lot of things going on in They're Going To Love You: a coming-of-age story, a tragic estrangement, the unforgiving world of ballet, the torturous artistic process. Howrey introduces the estrangement between Carlisle and her father, at the beginning, but teases out its origin for almost half the book. When the betrayals at its core finally arrive, They're Going To Love You really picks up steam. The story is engrossing and deeply moving, and I felt great empathy for poor Carlisle, who had little support and understanding from the adults in her life and wanted simply to belong somewhere, to be someone's priority. The question of forgiveness – who deserves it, who will grant it – was beautifully explored in the second half of the book.
Howrey's writing is lush, evocative, and sometimes a little opaque (which I'm sure was intentional). She did a great job of conveying the confusion and intensity of Carlisle's life as a dancer, as a daughter, as someone trying to find her way through life. They're Going To Love You is a beautiful book – complex, intense, messy, memorable and ultimately, bittersweet.
They're Going To Love You was the 61st book of 2022 and the final book for the 2022 EDIWTB Reading Challenge!