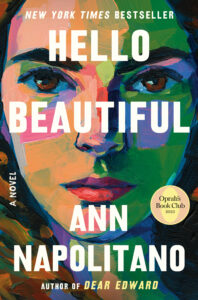 **I have been traveling for the last week and have gotten very behind on reading and reviews, so this will be a short one!**
After a few false starts, I finally got to Hello Beautiful, Ann Napolitano's juggernaut 2023 novel about four sisters which is loosely modeled after Little Women. It is a character-driven family saga that tracks several decades in the life of one Chicago family and its four daughters, as they navigate love, careers, parenting and sisterhood.
Why I picked it up: Despite not liking Napolitano's earlier book, Dear Edward (reviewed here), I couldn't resist the siren song of Hello Beautiful, which has been universally beloved this year.
There are four sisters in the Padavano family: responsible Julia, bookish Sylvie, independent Cecelia and nurturing Emmeline. Growing up with an intellectual but impractical father and a perpetually annoyed mother, the girls form a tight unit. When Julia marries William, a steady but inwardly conflicted young man with a tragic past, the sisters believe that it just one step forward on a path that will lead them all to families, children and close continuing bonds between them. They do not expect the curves that life throws at them and that ultimately lead to the fracturing of the family and deep seated anger and sorrow among the four.
I enjoyed the story of these four sisters and the fact that it was a long, deep family saga that covered many decades. I always find those books fulfilling. I got to know the characters deeply and, two weeks later, they have stuck with me. I also liked the gentle, empathetic way Napolitano approached these women and their challenges. That said, I also found the book frustrating at times. It was very, very repetitive. Napolitano said the same things, over and over again, which was not only annoying but also way too much telling vs showing. I didn't need so much explanation, and I didn't need it repeated so much. The book could have used a good edit, which could have cut out about 100 pages.
I listened to Hello Beautiful on audio. Maura Tierney did a nice job with the narration – her voice is sort of sad and plaintive (remember her character on ER? – like that) and was a good match for this wistful, melancholy book.
Hello Beautiful was the 28th book of 2026 and satisfies the Book Recommended By A Friend category of the 2023 EDIWTB Reading Challenge.