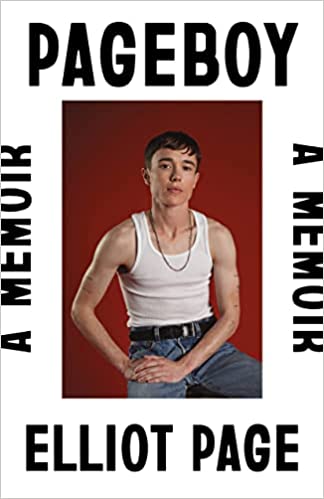 Whether you will like actor Elliot Page's memoir, Pageboy, may depend on what you expect from memoirs. If you like linear, start-from-childhood memoirs that cover all the grounds and answer all of your burning questions, then Pageboy might not be for you. But if you can tolerate memoirs that jump around in time, skip big swaths, and keep a lot of things private, then give this one a try.
Why I picked it up: My sister-in-law recommended Pageboy to me, saying that she found it very interesting to read about being trans from Page's perspective.
Page began his acting career when he was young, and became famous for his role in the movie Juno. Throughout his childhood, though. Page grappled with his sexuality and gender identity. Much of Page's book centers on the confusion and shame he felt in his younger years, as well as the efforts he went to as an adult to hide who he was. His relationships were kept secret until he finally came out, yet he kept his trans identity hidden for many years after that. Needless to say, this is an introspective book, and it can be draining, as it is relentlessly heavy. The process of coming out twice, as a person in the public eye, was very challenging, and Page is clearly using the memoir as part of his recovery from the trauma.
The section of the book that covers post-transition is very, very short, and I would have liked to have heard more about it. Other than a passage about wearing swimming trunks for the first time, there aren't many pages devoted to how Page feels now that he is living, genuinely, as a man. After being on the journey with him through the rest of the book, I would have enjoyed more of the liberating payoff at the end.
I listened to Pageboy on audio, narrated by Page. He's not the best narrator – a little monotone, a little lifeless – but I can't imagine hearing these words in anyone else's voice.
Pageboy was the 33th book of 2023 and satisfies the Book Recommended By A Friend category of the 2023 EDIWTB Reading Challenge.