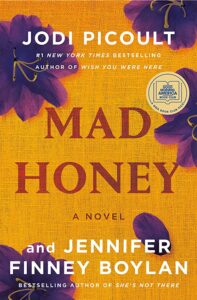 Up until now, I had never read anything by Jodi Picoult. A friend of mine recommended her most recent book. Mad Honey, and walking out of of the library earlier this month, I spied it on the shelf and impulsively grabbed it without even reading what it was about. I started it on audio and finished it in print as my first vacation read this summer. This is one of those books that's best to go in not knowing much, so I'll keep this review short.
Why I picked it up: Friend recommendation + curious about the Picoult phenomenon.
Mad Honey is a character-driven courtroom murder mystery about a high school senior, Lily, who is found dead at the bottom of her stairs. Her boyfriend Asher becomes the main – and only – suspect, and the book alternates narration between Lily (before her death) and Olivia, Asher's mother. Both women have endured trauma, and both fiercely love Asher. I don't want to say more about the plot, but I also liked the supporting cast of characters.
I found Mad Honey to be engrossing, suspenseful and sensitively written. It covers some tough topics well, without melodrama or preachiness. It's not perfect, but it was a great vacation read. I don't know much about Picoult or whether having a co-author is new for her, but it seemed pretty seamless. I'd recommend waiting to read the authors' notes at the end until after you finish the book.
The audio of Mad Honey was good, though the narrator's voice for Lily was a bit too girlish for me. I only did about 20% on audio and then switched to print.
Mad Honey was the 37th book of 2023 and satisfies the Recommendation From A Friend (thanks Polly!) category of the 2023 EDITWB Reading Challenge.