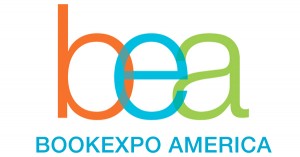 I am en route home from a whirlwind two days at BEA, which was the overwhelming, amazing experience that it always is. I had a great time walking the floor, going to some publisher parties, and reconnecting with the book blogger community. We have a lot of longevity among us  – this summer, EDIWTB turns 7! I can't believe it. Most of all, it is just fun to be around so many other people who simply love books.
Some highlights:
Breakfast with a bunch of very cool audiobook narrators. I had a chance to ask all of my burning questions about narration, and met some very nice people at the same time. June is Audiobook Month, so look for some audiobook-related content on the blog.
Meeting some of my favorite authors, including Lauren Grodstein, Curtis Sittenfeld, Christina Baker Kline, and Meg Wolitzer. Some of them said, "Oh, I know your site!" upon meeting me, which was definitely a thrill. I was too shy to say hi to Tayari Jones, and didn't want to wait in line for Scott Turow to sign his book (though I did get a copy), but I talked to Rob Sheffield about the Rolling Stones and got a hug from Caroline Leavitt and met Wally Lamb, so that's good.
Hanging out with my host, Nicole of Linus's Blanket, in her apartment in the beautiful West Village, and talking books late into the night.
Getting my daughter's favorite author, Wendy Mass, to sign her fall book.
A lovely breakfast today at the home of Adriana Trigiani, a book blogger favorite who is new to me. She generously welcomed a bunch of us into her beautiful home in the Village this morning for breakfast and conversation.
Parties at Penguin, HarperCollins, Workman, and Simon & Schuster – fun!
2 great sessions at BEA – one on Goodreads and a panel on how digital book sales is reviving the backlist market. Laura Lippman and Lizzie Skurnick were on the panel, and they were both entertaining and full of good thoughts on the publishing business.
And, of course, the books.
I have a lot of books making their way to me via media mail. I will do a post with pictures when they arrive. The one I am most excited about is Curtis Sittenfeld's Sisterland, which is due out later this month.
So that's the quick wrap-up, with more to follow! Oh, and I finished a book, so I will have a review up soon too.