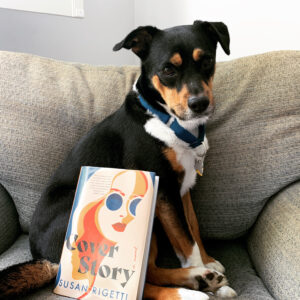 My reading year was mixed. Between the pandemic, two kids going through the college application process, complicated job dynamics and no beach vacation, my reading came in fits and spurts, with several dry spells mixed in. I haven't been in the car as much either, which means fewer audiobook hours. (On the plus side, we adopted a dog in February who likes looong walks, so that helps with the audiobooks.)
I had some success with books I couldn't put down, but I also found myself mired in books that seemed to take weeks to finish. I found it more important than ever to just follow my mood and let it take me where it did. All in all, I am pretty happy with the reading year, given all the distractions. Family dramas and memoirs worked best for me, making up almost all of my Best Books of the Year. I read a few of the Big Books of 2022, but had more success with quieter, less well-known books.

I missed my goal of 70 books, finishing 62 in total. I did complete the 2022 Everyday I Write The Book Reading Challenge this week with They're Going To Love You by Meg Howrey, which satisfied the "Pick A Book, Any Book" category.
Here are my 2022 reading stats:
Books finished: 62
Fiction: 52 (84%)
Non-fiction: 10 (16%)
BIPOC authors: 9 (15%)
#Ownvoices books: 13 (21%)
Books with LGBTQ characters: 14 (23%)
Male/Female authors:  54 female (87%) / 8 male (13%)
Audiobooks plus Read/Listen Combo: 28  (45%)
Average rating:  3.96
Repeat authors:  18 (29%)
Debuts: 23 (37%)
Backlist: 19 (31%)
Most books read: August, December
Fewest books read: February, September, November
Most frequent imprints: Knopf, Harper
My resolutions for 2023 are the same ones I always have: to read more BIPOC authors; to break 70 books for the first time; to plow through a lot of of the backlist books at home; and to continue to be respectful of and responsive to my reading moods. This never changes.
Here are a few superlatives for the year:
Best Books of 2022:
Signal Fires, Dani Shapiro
Chorus, Rebecca Kauffman
French Braid, Anne Tyler
Home Stretch, Graham Norton
Out Of The Corner, Jennifer Grey
Sorrow And Bliss, Meg Mason
This Time Tomorrow, Emma Straub
A Town Called Solace, Mary Lawson
Best Audiobooks:
Out Of The Corner, Jennifer Grey
This Is Not A Pity Memoir, Abi Morgan
Eventide, Kent Haruf
These Precious Days, Ann Patchett
Books That Surprised Me:
One's Company, Ashley Hutson
Just Last Night, Mhairi McFarlane

Best Memoirs/Essays:
Out Of The Corner, Jennifer Grey
Friends, Lovers And The Big Terrible Thing, Matthew Perry
These Precious Days, Anne Patchett
Tiny Beautiful Things, Cheryl Strayed
Most Fun:
Counterfeit, Kristin Chen
A Novel Obsession, Caitlin Barasch
Cover Story, Susan Rigetti
Most Overhyped Books:
Seven Days In June, Tia Williams
The Measure, Nikki Erlick
I'm Glad My Mom Died, Jennette McCurdy
How was your 2023 in reading?