I wrote earlier this month about the wonderful breakfast I had at BEA with a group of audiobook narrators. It was a fascinating breakfast, and while I was able to talk to a few of the narrators about their work, I still had a lot of questions when we were done. Thankfully, three narrators – Robert Fass, Karen White, and Anne Flosnik – agreed to do a Q&A here on EDIWTB about being an audiobook narrator. I am very grateful to them for taking the time to answer my questions!
R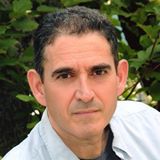 obert Fass is a tough man to pin down this month; he is currently en route to Kansas City, MO for the Hear Now Festival, a "film festival for contemporary audio story-telling in all its forms".  He will be among a group of narrators reading Mark Twain stories live over the radio on Friday, as well as appearing with the Golden Voices reading on Saturday.
Here is Robert's Q&A:
Q:  How did you get into audiobook narration?

A: I've been an actor all my life – classically trained, including several years with the legendary acting teacher Uta Hagen in NYC – and a working professional union member for nearly 30 years.

I've also been listening to voice recordings since I was a child, haunting my public library's spoken-word and comedy sections all through my formative years. I had a radio show at Macalester College in St. Paul, MN, which was mostly music, but on which I also occasionally would corral friends to read plays with me over the airwaves unrehearsed. In the late 1980s I created and hosted a live improvised radio drama series entitled Radio Free Association, which invited kids to call in answers to questions I would pose, which the players and I then used on the spot as the building blocks of an improvised audio drama with music. So the possibilities of audio have always fascinated me.

I have to credit my parents as well. My mother was a research librarian who turned me on to books from an early age and helped me get my first job at age 15 shelving books in our local public library. My father was a volunteer reader for the blind for over 25 years at Recording for the Blind and  Dyslexic in Washington, DC. When he passed away in 1997, I began volunteering in his honor at the InTouch network in NYC, an amazing organization where I was lucky enough to be one of two regular readers of The New Yorker magazine every week. That gave me solid grounding in narrating well-written essays, fiction, poetry, humor, etc.  Somewhere along the way, a fellow volunteer – an actress named Katherine Puma – offered me her spot at a seminar on audiobook narration given by the Audio Publishers Association (APA). At that time the APA was looking to bring more trained professional actors into the industry and gave the attendees the chance to submit a sample to a producer for feedback. I received enough encouragement that I pressed forward and created a full demo CD which I sent to every publisher and producer in the APA. It caught the ear of a couple of folks who gave me a chance. The reviews were good, and things built – slowly – from there. It took several years before I began to make most of my living at it.

Q: How do you prepare for a new narration role? Do you read the whole book through to get a sense of the characters and story?
A: It's critical to read the whole book! For fiction it's especially important because you need to make choices about the various characters' voices – the author often provides clues somewhere along the way and the narrator community is full of tales of having recorded a whole bunch of pages with a character in one kind of voice only to discover on page 297 that he speaks in a completely different voice – a heavy Welsh accent, for instance, when you've done a perfect Surrey gentleman. But regardless of the genre or the complexity of the writing, as a narrator you have to understand the author's voice, point of view, narrative style, and, most importantly, the dramatic arc of the book. You've got to know where you're going.

Q: What is your favorite book that you've recorded? Any books on your dream list?

A: There have been so many favorites, it's hard to pick just one. I'd have to point to SAY HER NAME by Francisco Goldman as a highlight. It won all kinds of print awards for the author and I'm proud that it was awarded an Earphones award and named one of the 10 Best Audiobooks of 2011 by AudioFile magazine. I loved narrating NO ORDINARY JOES, a deep dive into the story of four submariners captured by the Japanese in WWII and their lives and loves after returning to civilian life. That's by Larry Colton. And I got to record a beautifully written memoir by Carlos Eire, LEARNING TO DIE IN MIAMI.

Most recently, I was blown away by the gorgeous writing in THE UNWINDING, George Packer's real-life account of a disparate group of ordinary Americans struggling to stay afloat amid the dismantling of the social contract in this country over the last 30 years. It's a brilliant mosaic, a great book that deserves to be widely read – and, of course, listened to!Most of my dream list, unfortunately, has already been recorded. Some of Stanley Elkin's novels are among my favorite 20th century works of fiction and I feel a great affinity with his protagonists and delight in his loopy, verbal jazz. But the great George Guidall's recorded them, so how can I regret that?

There is a favorite book of mine which shall remain nameless for the moment, a unique mystery with a cult following that's never been recorded, a book I've long dreamed of narrating. I'm currently in conversation with the author about it and am hopeful of having the joy and privilege of producing and narrating it sometime this year.

Otherwise, I've had the great good fortune to narrate works by some of the world's best authors and my dream list consists of any books that allow me to continue to be a part of bringing great writing to audio.

Q: Where do you do your recording?

A: These days I work mostly in my home studio. I still get out to publishers' studios now and then, where I get to work with an engineer – sometimes even a director, the best of all possible worlds – and just focus on the read. But the industry has moved decisively in the direction of home studios over the past couple of years, in which the narrator is now also engineering and self-directing; so I made the investment to set up a high-quality booth in a spare bedroom of our apartment and refine my technical skills as well.

Q: Do you ever find that your voice changes from session to session? (Sometimes I think I can tell when one session ends and another starts because the narrator's voice gets lower, for example.)

A: Not often. That kind of distraction shouldn't happen if it can be avoided, and typically I (or my engineer) will compare the first few minutes of the day's recording with that of the day before to ensure that the sound matches – that my voice has the same energy and pitch range, my mic placement hasn't changed, etc.

This is, I believe, to a large extent a by-product of the move toward home studios. Whereas there used to be three sets of ears on a recording session (narrator/engineer/director), now there tends to be just one: the narrator's. So more of those kinds of inconsistencies are going to get through. Like a lot of narrators, I do a series of physical and vocal warmups before entering the booth so that my voice is ready to start recording and, hopefully, it will be consistent from session to session within any given project.

Q: How much interaction, if any, do you have with the author while you're recording?

That varies considerably. Some publishers connect me with the author (or, in some cases, the author's representative) from the start. Others maintain a strict separation policy between the author and narrator. You may need to tread lightly sometimes, but I find it has always been helpful for me to be able to connect with the author in order to discover as much as I can about the spirit and intention of the work, any specific overarching idea they may have about the narrative, as well as to get pronunciation guidance on names, places, and other terms that may not be findable by conventional means. The authors I've dealt with have always been grateful for the amount of care and interest I've taken in approaching the narration of their work. I recently produced and narrated PULP AND PAPER, a collection of beautifully written, prize-winning short stories by an author named Josh Rolnick; his input was essential in giving me the understanding I needed to get into the hearts of those characters.  Our job as narrators is to get out of the author's way, and I think dialogue with them helps a great deal in that regard.

Q: What do you like to read in your spare time?

A: I'm not familiar with this concept, spare time. Please explain.

Q: Anything else you would like my readers to know about audiobooks?

A: That narrating is a craft. The majority of professional narrators, the ones who regard it as a craft and invest their time and talent in order to make a living at it, are members of the performers' union, SAG-AFTRA.  As the audiobook listening community continues to grow by leaps and bounds, it is helping to drive a number of shifts within the industry itself. One of those shifts is a large influx of new narrators, some of whom may be capable of great things, but some of whom do not have the necessary tools to be able to make a good audiobook (which goes far beyond having a laptop with a microphone, being told you have a nice voice, and having the notion of, "hey, I'd like to narrate audiobooks"). So it's important that listeners be discerning.

A related shift is that social media has lowered or even eliminated the barriers to communication between audiobook listeners/fans, publishers, authors, narrators, reviewers, and bloggers like yourself. So it's important to the ongoing health of the industry that discerning listeners let publishers know their preferences for quality narration and quality production: that it matters to have a voice that matches the material; that the book is read well; that there aren't sirens, helicopters, kids' footsteps, and other intrusions on the audio; that names and terms aren't mispronounced; that the listening experience of any book is the best it can be.

Lastly, a big thank you to you and your readers for being audiobook fans and for giving me this opportunity to speak with you. I really appreciate it!
Thank you again to Robert for the thoughtful answers he gave and for taking the time to chat here on EDIWTB. I especially liked what he had to say about listeners letting publishers know what they think of the recordings, so that the emphasis on quality narration is maintained throughout the industry. Hopefully EDIWTB is helping on that front!