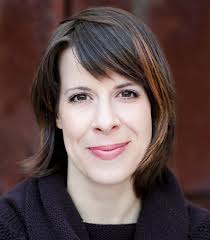 I met Tavia Gilbert last fall, when I participated in an online panel discussion about audiobook narrators and social media. She is a narrator extraordinaire, with 150+ narrations under her belt, and is a genuinely kind and funny person too. (Read more about Tavia here.)
I was lucky to be seated next to Tavia at the BEA audiobook narrator lunch in New York last month, and she graciously agreed to answer my Q&A about narration in honor of June is Audiobook Month. (This is my third in a series of three interviews with narrators.)
Q. How did you get into audiobook narration?
A: I was a listener before I was a voice actor. And I was an acting student before I was a listener. I had a long drive from Seattle, where I was in college studying theater, to visit my family in Idaho, and I thought, I guess I'll get a book on tape for the drive. I went to my local library and checked out a novel written by Joanna Trollope, gorgeously narrated by Davina Porter, put the first cassette into the tape player of my Dodge Neon, and set out on I5. Davina was the perfect narrator to introduce me to the art-form of narration. How lucky I was! She is a masterful storyteller — delicate, strong, nuanced, precise, conversational, heart-felt, intelligent, articulate, and well-read (and these qualities show up in one's voice and performances, absolutely). I admire her greatly. At the time, I thought, "I want to do that! I want to DO that!!" It took another seven years or so, but one acting degree, lots of work on stage and on camera, a tremendous amount of practice, a lot of classes and coaching, and a huge amount of passion and ambition later, I got my first contract. I've been working steadily ever since.
Q: How do you prepare for a new narration role? Do you read the whole book through to get a sense of the characters and story?
A: I read the text and get a feel for the tone, pace, rhythm, and feel of the project. I learn about the writer — who they are, what they care about, why they wrote the book. I highlight my scripts (which are all on my iPad — I don't use paper scripts any longer) with different colors to call my attention later to points that will influence my character choices — blue for specific vocal characterization notes, like dialects or voice qualities (i.e., rough, raspy, squeaky, etc.); orange for character background (like physical description or description of the character's personality or internal life, etc.). I mark in red every word I need to look up or ask the author to pronounce, so that I am voicing everything correctly. I mark in green every bit of information the author has provided that gives me specific performance direction (i.e., "he whispered," "she called over her shoulder," "he slurred, drunkenly," etc.). Then, after researching all my vocabulary, I'm ready to record.
Q: What is your favorite book that you've recorded? Any books on your dream list?
A: I have many, many projects that I've absolutely loved recording, from science fiction to memoir to literary fiction to young adult to theology. But my latest favorite book is The Actual and Truthful Adventures of Becky Thatcher, by Jessica Lawson, for Dreamscape. It's a young adult novel featuring the character from Mark Twain's Tom Sawyer. But in The Actual and Truthful Adventures, 11-year-old Becky takes center stage, and she proves herself to be smart, funny, brave, loyal, fierce, sensitive, and absolutely wonderful. If I had a daughter, I think I'd like a girl just like her, so it's going to be great fun voicing her adventures. My birthday is this month, so perhaps I'll begin recording her story on the actual day, which would be a very fine birthday present, indeed!
And on my dream list? I'd love to record more in the Linda Barnes Carlotta Carlyle series, because the series is fantastic and I adore Carlotta, and Little Women, the Little House on the Prairie series, and Anne of Green Gables, because they meant so much to me as a child.
Q: Where do you do your recording?
Much of the time I'm working in my studio in my Brooklyn apartment, but occasionally I'll work in a recording studio in Manhattan, depending on the project. My booth is a double-insulated WhisperRoom in an office on the second floor of a brownstone. It's awfully hot in the summer, but I've heard that one of the biggest contributors to job satisfaction is a short commute. At no more than ten seconds between the living room and my studio, my commute cannot be beat. (It doesn't leave me a lot of travel time for audiobook listening, however. I have to wait until I do housework or jump on my bike to put in my earbuds.)
Q: What is your favorite genre for narrating?
A: Whatever is beautifully written makes me very, very happy, but if I was forced to choose a favorite, I think a fantastically written mystery can't be beat. I don't get enough of it, and I'm always really excited when a great mystery comes my way. I really enjoy tough, wise, female leads and wonderful supporting characters; compelling suspense; and surprising twists and turns. I also really love narrating literary fiction, memoir, and children's and young adult work. See!? I can't choose! If the writer is skilled and compassionate and thoughtful, has a clear vision and voice, and tells a great story, how could I ever possibly choose?
Q: How much interaction, if any, do you have with the author while you're recording?
A: More often than not, I connect with the writer to some degree. With some I may just exchange a quick Facebook message. With some I may have a phone call. With some writers I'll sit down over lunch and a glass of wine and then we'll email and call and text and become lifelong friends. It's been very surprising and very meaningful to have developed a few close friendships with writers whose books I've narrated.
Q: What do you like to read in your spare time?
A: Spare time? What spare time? I kid… kind of. I really have so much to read all the time, so many books to prep and record, that it's very difficult to get in any reading solely for pleasure or personal enrichment. But I can get it in in fits and starts, or by listening to an audiobook during housework or while I'm exercising. Almost everything I read for myself is non-fiction, mostly memoir, though I do sometimes read literary fiction. On audio I listen to whatever my favorite narrators are performing, whether that's contemporary fiction, a classic, philosophy, or memoir.
Q: Anything else you would like my readers to know about audiobooks?
A: I suppose I'll take this opportunity to ask that no one ever ask a narrator again, "Do you also act?" Audiobook narrators are acting every time they sit behind the mic. The art-form of narration is specialized acting performance. Just as we would if we were in a play or a film, we're developing character, playing our objectives, making specific acting choices to bring the text to life. We are voice actors, and if you listen to an audiobook, you're listening to an actor perform just for you! How awesome is that?
Thank you, Tavia!