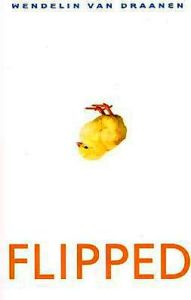 Our last mother-daughter book club read for the academic year was Flipped by Wendelin Van Draanen. Flipped is the story of a friendship between Julianna and Bryce, who meet in second grade when Bryce moves in across the street from her. She is instantly smitten with him, while he is put off by her intensity and immediate attachment to him. For the next 6 years, Bryce basically tolerates Juli, and she continues to indulge her crush, sitting behind him in class and smelling his hair.
Fast forward to 8th grade. Bryce and Juli are still in school together, and she still likes him. Flipped relates what happens that year in chapters that alternate between him and her, in he-said she-said perspectives that reveal, of course, that both characters are more complex than they appear. Juli is a free spirit who raises chickens and mourns the loss of her favorite tree, while Bryce is a popular boy who keeps his emotions in check and cares what people think. But Juli starts to grow on him. He won't admit it, but he cares about her feelings and admires her passion. And Juli gets to know Bryce's family better and learns that he is not perfect. In fact, he can be thoughtless and inconsiderate, which we know, of course, because we see his side of things.
I liked Flipped. I thought the characters were textured and interesting, and the way the year played out was pretty realistic. The book had an old-fashioned feel to it, which I enjoyed. Oddly, the girls in book club did not it that much.A few thought it was boring, while a few thought it was anti-feminist, which I didn't agree with, because Juli never compromises herself or acts like someone she isn't – she just has a crush! She was a strong female protagonist.  I was surprised that the girls didn't enjoy the book as much as I did.
FYI – there is a movie version of Flipped with a good cast – Anthony Edwards, Aidan Quinn, John Mahoney – which came out in 2010. We watched it after book club and we really liked it. Rob Reiner directed it and set it in the 60s, which felt pretty natural. So if you do read the book, check out the movie afterwards.
That's a wrap for mother-daughter book club for 2015-2016. We'll be back in the fall with a new year of books for 7th graders. (Any suggestions?)