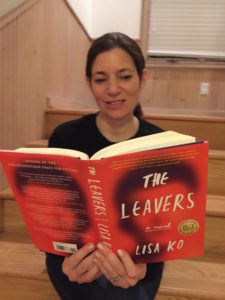 Every year on January 1, Sheila at Book Journey hosts First Book at her blog. She posts photos of readers from around the world and the books that they are starting off reading in the new year. Check out her blog today to see the photos that people have sent in and what everyone else is excited to read.
Here is my first book of 2018: The Leavers by Lisa Ko. It has been on my TBR since it came out and I've moved it up to the top of the list.
To all of my EDIWTB readers: Happy new year!! I hope it's a happy and healthy one, filled with lots of books and time to read them.