I made it! I read 52 books this year, same as last year. That was my goal, and despite falling way behind in March, I managed to catch up. Here is my 2017 Reading Year in Review.
I did stick to my resolution of reading only books I wanted to read this year. They weren't always great, but I chose them for no reason other than that I wanted to read that particular book at that time. My mother-daughter book club ended after 7 years, but I started a new adult book club this fall, and we've gotten two books under our belt so far.
Next year, my goal is to read more non-fiction. I read only 3 this year. Next year I am going to try to get to 10.
Here are my standout reads from 2017: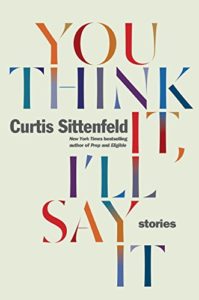 Best audiobooks were What Happened (read by Hillary Rodham Clinton), Stay With Me (read by Adjoa Andoh), Our Short History (read by Karen White) and Perfect Little World (read by Therese Plummer).
Most disappointing book: The Turner House by Angela Flournoy.
Most creative read goes to Every Day by David Levithan.
For the last several years, I have tracked the Depressing Themes of the books I read. Here are some of the depressing subjects covered by the books I read in 2017: WWII, orphans, cults, killing a lover, high school, giving up children, incarceration (especially when wrongly accused), terminal cancer, Indian reservation, death of sibling, horrible husband, drug addiction by parent, wife beaten into coma, the whole book 1984, horribly abusive mother, children lost in South America, racism, infertility, technology run amok, THE 2016 ELECTION, dead spouses, communicating with dead people, dog maiming, middle school. (This list seems actually less depressing than in previous years!)
The breakdown:
49 fiction, 3 non-fiction (ugh!)
14 repeat authors during 2017: Sarah Dunn, Jami Attenberg, Lauren Grodstein, Anita Shreve, Curtis Sittenfeld, Carolyn Parkhurst, Caroline Leavitt, Ann Hood, Catherine Heiny, Tom Perotta, Siobhan Fallon, Celeste Ng, Michelle Richmond, Sarah Pekkanen
19 audiobooks
13 male authors, 39 female authors
How was your 2017 in reading? What were the highlights?