I am a sucker for advice columns. I read several on a regular basis – Carolyn Hax, Ask Amy, Dear Prudence – so when I learned that there was a book coming out by Boston Globe advice columnist Meredith Goldstein, author of the "Love Letters" column, I knew I wanted to check it out. (Goldstein also wrote the novel The Singles, which I reviewed here.)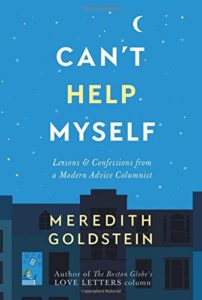 Can't Help Myself: Lessons & Confessions From A Modern Advice Columnist is about Goldstein's column: how she started it, the types of letters she gets and her interactions with her readers. But it's also about Goldstein's own life – her relationships with men and the people close to her. The "Love Letters" column addresses her readers' relationship quandaries, covering everything from one night stands and overdue marriage proposals to work spouses and online dating. Goldstein divides the book into themes about love lives while threading her own personal narrative throughout. We learn about the guy who got away, her very close relationship with a colleague, and her mom's cancer diagnosis.
Can't Help Myself is a quick and interesting read. Goldstein is funny and deeply honest, so I really got a sense of who she was. I almost always agreed with the advice she gave out to her readers, even while she had trouble following it in her own life. I do wish she had spent more time behind the scenes. I wanted to hear more about how she picked the letters and trends she has noticed in 9 years of writing her column. Goldstein always seemed so sure of her answers; I'd like to have heard about the times when she just didn't know what to advise. More focus on the role and responsibility of the advice columnist would have given Can't Help Myself more heft.
I liked the reader letters spread throughout the book, and have, of course, now subscribed to "Love Letters" updates.
This is a fun book if you're an advice column junkie, but in the end I wanted a little more detail and analysis.