We made it to 2021! YAY.
Every New Year's Day, Sheila at Book Journey hosts First Book, a post where she collects photos of readers with their first book of the year. (You can read about it here.) I've participated for many years, and this year is no exception. To see what people are reading today, go to Book Journey and check out the First Book 2021 post.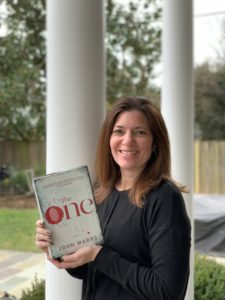 I am sitting on a number of overdue library books right now, which I really hate. There are no fines during covid-19, but I still feel very guilty about preventing books from getting into other readers' hands. So I am pledging to read some of those overdue books in January and return them as soon as possible.
My first book for January is a library book that was due on December 16: The One by John Marrs. It's about five people who take a DNA test to find out who their soul mate is… and what happens to them after that. Reviews are mixed. Last month, I also started an AMC show called Soulmates which I believe is based on the book.
What's your first book of 2021?