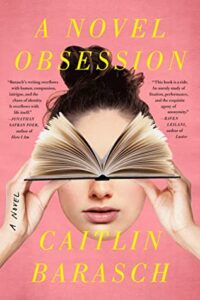 A Novel Obsession is a debut novel by Caitlin Barasch about Naomi, a twentysomething woman who wants to be a writer, but doesn't really have a story to write about. She becomes obsessed with her boyfriend Caleb's ex-girlfriend, convinced that her obsession will provide the perfect plot for her breakout novel. And so, she embarks on a cat-and-mouse game that finds her following and ultimately befriending the ex, Rosemary, learning all that can about the woman she replaced while keeping it all from her boyfriend. A Novel Obsession is a twisty slow burn that keeps readers guessing as Naomi's judgment grows worse and her relationship becomes increasingly tenuous.
Why I picked it up: I was offered an advance copy of A Novel Obsession and found the premise irresistible.
Naomi is a fun protagonist, a trainwreck of a character who you want to shake to get to her stop doing stupid things, but who you also enjoy watching from the sides because she does such questionable, risky stuff. Rosemary plays the perfect foil to Naomi – confident, calm, successful – but she lost Caleb, didn't she? So what's she missing? Why did Naomi "win"? To answer this question Naomi constantly compares herself to Rosemary, trying to figure out why Caleb is with her. As we understand Naomi better, the sources of her insecurity and secretive nature become clear. But she's still basically unhinged. As A Novel Obsession builds up to its inevitable conclusion (where you know things are going to topple, but you're just not sure how), the book picks up steam .
I liked A Novel Obsession a lot. I needed something light-ish to keep my attention, and it did. By going deep into Naomi's head, Barasch does a good job of making a scheming, unlikable person pretty sympathetic. If you like books about writers and readers, books about fraught young relationships, and books that keep you off-center as you try to figure out who knows what, then this one is for you. A Novel Obsession is an assured debut and portends a promising career for Barasch.
I listened to A Novel Obsession on audio. Kristen Sieh's narration imbued Naomi with an optimism, a perkiness that I didn't necessarily sense from the book when I turned to the print version. I went back and forth on how her tone affected the book – did she make Naomi seem too normal, for example? – but in the end I liked the audio and would recommend it. Sieh did a great Welsh accent for Caleb and I particularly liked the way she performed Rosemary.
A Novel Obsession was the 12th book of 2022 and satisfied the Debut Novel category of the 2022 EDIWTB Reading Challenge. Thank you to Penguin Random House and Penguin Random House Audio for the review copies!