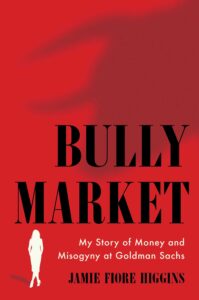 #MeToo may have dominated the news cycle in 2017, but the hits keep coming. Last summer, Jamie Fiore Higgins released a memoir detailing the misogyny and mistreatment she endured during her almost 20 years at Goldman Sachs working her way up to managing director, a rarity for women. Bully Market: My Story Of Money And Misogyny At Goldman Sachs, is a riveting and often infuriating account of Higgins' time at Wall Street's most prestigious bank.
Why I picked it up: I like workplace memoirs, especially when that workplace is challenging and stressful, and Wall Street memoirs are particularly juicy.
Higgins grew up in a working-class family, and her parents stressed to her the importance of making money rather than taking a lower-paid but fulfilling job when she finished college. She was accepted into Goldman Sachs' training program, where she worked her way up from a junior associate to a managing director. Along the way, Fiore made many sacrifices: her time, her family, her marriage, her values. She was physically attacked, belittled by the men around her, prevented from taking leave and pumping milk, punished for reporting her colleagues' racist behavior and denied her full bonus because she missed work after a miscarriage. Yet she felt trapped. She was told that people don't leave Goldman, that she was lucky to be there, and that she'd never have a job as good as the one she was in. Even when her marriage was in deep trouble, she still didn't leave. After Higgins and her husband determined that she had made enough money for them to live comfortably without her Goldman income (she WAS making a million dollars a year in bonuses), she finally quit and was free of that toxic world.
I really enjoyed Bully Market. Although the writing wasn't remarkable, and was occasionally repetitive, I got totally sucked in to Higgins' world and was very interested in what she did at Goldman – and what would eventually drive her to leave. Higgins does a good job of explaining why she felt she needed to stay, even while she knew deep down that Goldman's toxic culture conflicted with her values. She was completely honest in this memoir, even when it painted her in an unflattering light. I have read a few complaints that her mentions of Black Lives Matter and the lack of racial diversity at the bank felt tacked on, and I agree with that. I think she really intended to focus on #metoo and the treatment of women, and added the other topics as an afterthought. So that's a fair criticism.
I listened to Bully Market on audio, narrated by the author. Her delivery is a little unnatural – she's a memoirist, not a professional narrator – but I still really appreciated hearing the words in her own voice.
Bully Market was the 4th book of 2023 and satisfies the Memoir category of the 2023 EDIWTB Reading Challenge.