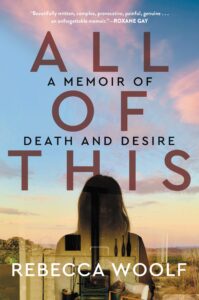 In the mid aughts, I used to read a parenting blog called Girl's Gone Child by a blogger named Rebecca Woolf. Like most of the blogs I followed back then, Woolf's blog fell off my radar in the 2010s and I didn't hear her name until recently, when I read about her new memoir, All Of This: A Memoir Of Death And Desire. It's about the her husband Hal's death from pancreatic cancer four months after being diagnosed. What makes her story especially interesting is that at the time he was diagnosed, Woolf was planning to leave him. They'd had a tumultuous marriage, and her feelings about his illness and death are therefore complicated, to say the least. All Of This chronicles those four months and the years that followed, with flashbacks to their early marriage.
Why I picked it up: I used to enjoy Woolf's blog, and was really intrigued by her memoir.
All Of This is a messy book. This makes sense, because Woolf's feelings about her husband were messy. They were passionately in love when they got married, but fourteen years of marriage and four kids took their toll on their relationship. Woolf has a lot of anger about the marriage, some of which stemmed from their dynamic.,but a lot of which is rooted in her frustration with marriage as a patriarchal, confining institution. She is open about her infidelity during the marriage and her need to experiment and find other partners. She is open about her resentment of Hal, and her relief at being free of the marriage. She is open about the comfort she took in supporting and taking care of him in his final months. She is open about all of it, and the book is sometimes inconsistent and contradictory, the way most intense emotions are.
I found the first half of the book, which covers Hal's illness and death, very compelling, and the second half a little less so. Woolf flailed after Hal's death, seeking partners on dating apps for casual sex and making up for many lost years of feeling trapped. This section was particularly raw, and even off-putting at times, but it was also unflinching and very honest. If a memoir is an attempt to understand the complexities one's life – not to make it orderly and linear – then Woolf succeeded in All Of This.
All Of This may not be for everyone. There is a lot to unpack here. But I found it pretty compelling and hard to put down. It's a tough read in many ways – a true and accurate reflection of the tumult in Woolf's life – and one that I am glad I found.
All of This was the 46th book of 2022 and satisfies the memoir category of the 2022 EDIWTB Reading Challenge.