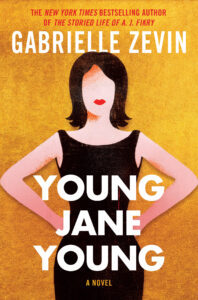 Young Jane Young by Gabrielle Zevin tells a familiar story through the eyes of three women: Rachel Grossman, a woman in her 60s in Florida whose daughter Aviva has had an affair with a congressman while working in his office as an intern; Jane Young, an event planner in Maine and Aviva's new identity; and Ruby Young, Jane's adolescent daughter. Even though the intern-politician story was trampled to death in the late 90s, it feels fresh in Zevin's hands.
Why I picked it up: I've had this book on my shelf since it came out in 2017. The other books I've read by Zevin are so different from each other (The Storied Life Of A.J. Fikry and Tomorrow and Tomorrow and Tomorrow), and I was curious to see what she'd do with this one.
Zevin's work is highly original and unpredictable, and Young Jane Young was no exception. The story isn't new, but the way she told it was. The first part is told through Rachel's eyes, a woman grappling with her daughter's very public shame as well as her own divorce. Then we move to Jane's perspective, getting to know Aviva as a grownup who has tried to leave the painful chapters of her life behind. We hear from Ruby, mostly through her correspondence with a foreign pen pal, and Embeth, the wife of the congressman. Finally, Jane/Aviva tells her side of the affair in the format of a Choose Your Own Adventure novel. Some of these sections are stronger than others (I didn't love the Ruby section), but they all have Zevin's unique voice.
This is a novel about women making their own choices and feeling comfortable with them. The men – including the congressman at the heart of the scandal – are mostly there to demonstrate the many double standards to which women are held. But this group of strong, unapologetic women tells a story that most of us thought we knew, and they provide some food for thought. How long should someone have to pay for some bad decisions? When a power dynamic is that uneven, can one side even be blamed? Young Jane Young was entertaining and thoughtful, even if it's not as complex or deep as Tomorrow.
I listened to Young Jane Young on audio. It's narrated by my old pal Karen White, who did a lovely job, especially with the Choose Your Own Adventure section. (Nice job with the Yiddishisms too.) I'm always a fan of Karen's audiobooks!
Young Jane Young was the 51st book of 2023 and satisfies the Book Off My Bookshelf category of the 2023 EDIWTB Reading Challenge.