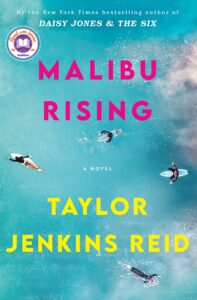 The book of the season has to be Malibu Rising by Taylor Jenkins-Reid, with its azure ocean blue cover (with surfboards!) and its breezy early 80s California setting. It has been everywhere this summer – BOTM, Read With Jenna, Instagram, on and on. Jenkins-Reid is an automatic-read author for many people, so this book was destined for bestsellerdom. But for me, Jenkins-Reid has been a bit of a mixed bag – I've liked some of her books more than others but I never seem to love them as much as other people do (Daisy Jones And The Six, Maybe In Another Life, The Seven Husbands Of Evelyn Hugo, One True Loves, After I Do <– my fave). And… Malibu Rising was no exception. It was just OK for me, and actually kind of silly in the end.
Why I picked it up: Couldn't resist the hype! Thanks BOTM.
The Riva siblings are famous in 80s Malibu. Their successful musician father, Mick, left their mother June twice and abandoned the family when the kids were little; Nina is a gorgeous surfer/model whose famous tennis player husband has just left her; Jay is a world class surfer and Hud is his almost-twin brother who travels with Jay to photograph him; and Kit is their baby sister. Malibu Rising takes place over one day – the day of Nina Riva's famous end-of-summer party – with Jenkins Reid first delving into the history of the Riva family and then real-timing the party itself. The party attracts all sorts of Hollywood A-listers and hangers-on, some real (liek Jennifer Beals) and some fictional, making the cast of characters in Malibu Rising a pretty wide one.
While Malibu Rising is a fun, and pretty engrossing, read, in the end it was as substantive as cotton candy. I enjoyed the backstory about the Riva family and would have been happy if the party had never happened. Once the party started, Jenkins Reid threw in a lot of unnecessary characters and subplots and amped up the action to a point where it really just got absurd. There was no need for the house to be destroyed (not a spoiler); the drama within the Riva family could have sufficed. As it were, the siblings were basically limited to one issue each, with very little complexity or growth, because there was so much other extraneous stuff going on.
I listened to Malibu Rising on audio. Julia Whelan's narration was on brand – perfectly delivered but vaguely angry. I wonder if a more emotional narrator might have made the book more compelling.
Overall, I thought Malibu Rising was… fine, but also relatively forgettable. (It's not going to be the book of my summer.)
Malibu Rising was the 35th book of 2021, which means I am only halfway to my 2021 goal, and we are past the midpoint of the year. Argh. Gotta step it up!