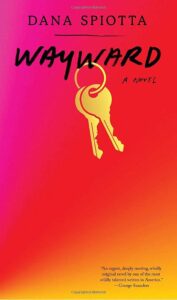 Dana Spiotta's latest novel, Wayward, addresses midlife female rage in all of its passionate, irrational glory, taking the reader down an inconsistent yet often brilliant path that is likely to inspire a wide range of responses. Sam, a woman in her early 50s in Syracuse, NY, on a whim buys a dilapidated but classic old home in a downtown neighborhood. She informs her husband and daughter that she is moving out of their comfortable suburban home and into the old house, which she is going to rehab. What has driven Sam to make this rash decision? Rage about the 2016 election, fury at her husband's inattentiveness, frustration about her teenage daughter's aloofness and sadness about her mother's declining health. Spiotta also manages to cover police brutality and Black Lives Matter, #metoo and a range of timely issues facing modern mothers and wives. Whew.
Why I picked it up: I was intrigued by the story and issues addressed, and had liked Spiotta's novel Innocents and Others (reviewed here).
There is a lot to like about Wayward. I thought that Spiotta did an exceptional job capturing the feelings of a woman at midlife letting go of the daughter who gave her purpose and coming to terms with the limitations of a partner who doesn't really see her anymore. Sam feels invisible to society – a common complaint of middle aged women – and is grappling with how to stay relevant and feel valued. Spiotta's writing is insightful and at times breathtakingly perceptive. But as much as I appreciated Wayward, I was also frustrated by too many plotlines (her daughter's affair with a much older man; an unarmed Black teenager shot by police in the middle of the night) and characters who were never really fleshed out or fully addressed. And Sam herself was quite privileged, with her husband bankrolling her home renovations without complaint, while Sam worked for almost nothing giving tours at a historical house in Syracuse. Sometimes I just wanted to shake her and say, "Channel this rage into something productive! Stop complaining!"
So Wayward was a mixed bag. I found myself skimming in places, while in others I hung on every word. There is little plot, so be prepared for a peripatetic, character-driven book that faithfully captures a moment of time (in history, in life) in its messy reality.
I listened to Wayward on audio, which I don't really recommend. Audio is not the best for unstructured narration that verges sometimes on stream-of-consciousness. I found my mind wandering more than once while I listened. I think reading it in print would have been a better way to experience Wayward.
Wayward was the 36th book of 2021.