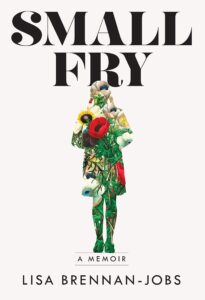 I am on vacay in Taiwan, visiting my daughter who is studying Mandarin here on a gap year program, so this will be a short review. For the "Book On Your Bookshelf 2+ Years" category of the 2022 EDIWTB Reading Challenge, I chose Lisa Brennan-Jobs' memoir, Small Fry. Lisa is Steve Jobs' daughter and Small Fry is the chronicle of their fraught relationship from her birth until his death in 2011. The book came out in 2018 and I picked up an ARC that year at Book Expo. It has been on my bookshelf ever since.
Why I picked it up: It's the book I was in the mood for when I perused my shelves for a book that has been there for over two years.
When Brennan was born, her parents were in a relationship that ended when her father left them and claimed that Lisa, still a baby, was not his daughter. He eventually conceded that he was the father, but remained a shadowy, absent figure in her life while she was growing up. Lisa and her mother, Chrisann, had very little money and lived an itinerant lifestyle as they searched for affordable homes and sources of income. Meanwhile, Steve, who co-founded Apple and ran Pixar, grew increasingly wealthy as his companies prospered. Small Fry is about the complicated relationship between Lisa and both of her parents, but particularly her father, who was cold, inconsistent, and unaffectionate. He often withheld money from Lisa and her mother, refusing to pay for certain things, while occasionally indulging her with shopping sprees. When Lisa decided to move in with Steve during a rough patch with her mother, he predicated it on her staying for 6 months and not seeing her mother at all during that time, claiming that he needed a total commitment from Lisa even when he had been so inconsistent in her life.
Small Fry is an interesting look at an enigmatic and flawed man who most of us know only as the father of the devices that have transformed our lives so completely. Steve could be cruel, immature and irrational, waiting until his deathbed to admit to Lisa that he had been less than a perfect father. I found the first half of the book to be a bit boring, as it contained a lot of unnecessary details about Lisa's early days with her mother. The second half, where she moved in with Steve and lived her teenage years in his lonely, unfurnished home, was more compelling. It is understandable that Lisa has such conflicting feelings about her father and I appreciate her sharing her memories and sadness in the book. It just could have been shorter and perhaps more focused.
I listened to Small Fry on audio. It is narrated not by Brennan-Jobs but by Eileen Stevens, whose voice was a little too perky. It sounded like she was smiling as she was narrating it, which was a mismatch for the often fraught subject matter.
Small Fry was the 59th book of 2022 and satisfies the Book On Shelf 2+ Years category of the 2022 EDIWTB Reading Challenge.